Our Rooms
Curriculum at BT
What does curriculum mean when you are talking about a baby or a toddler? In fact, what does it really mean when you are talking about a three, four or 5 year old who is at a program every day, all day? It cannot mean what it means to a child in kindergarten or to a young child in a nursery program which is in operation three or four hours a day. That would be a tremendous disservice to both how and how much children at these ages are actually learning. In many ways life is the young child's curriculum. The world is their curriculum. Nothing is too big or too small to be important and valuable to the child's learning process at these ages.

The Baby Room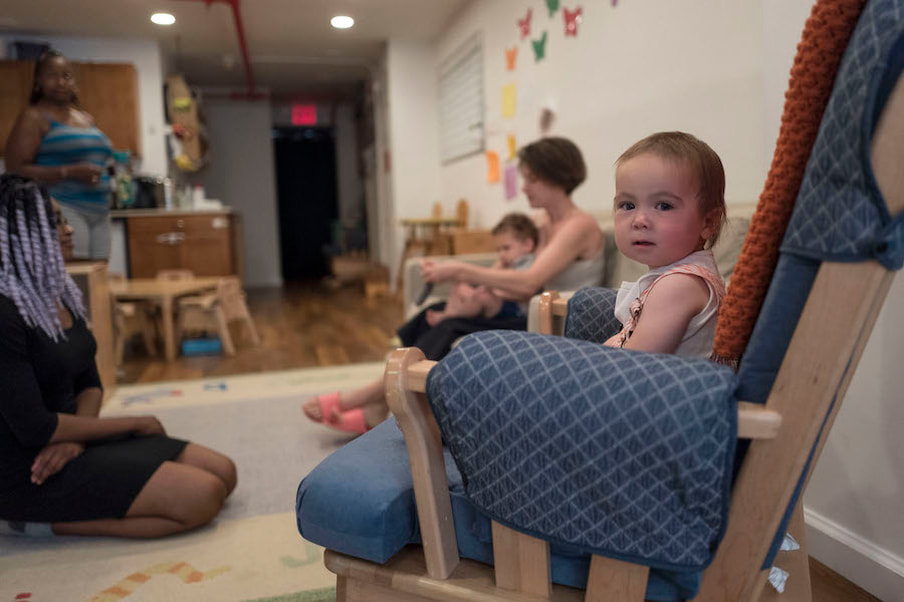 ---
In all of our rooms our curriculum is inextricably bound with our relationships. In the Baby Room, the materials and the activities reflect the children in the room, their developmental level, as well as their temperament and interests. But the term "curriculum" cannot be reserved for just activities and materials. It also must encompass every aspect of their care. Too much of an infant's day is comprised of care to ignore the learning that happens during these moments. When babies are having their diapers changed or eating or drinking a bottle or getting ready for their nap, they are learning. The teachers in the Baby Room are trained to attend to the babies during all moments. Nothing can be thrown away. We sing to the children while they eat, we talk to them while we change their diapers. We hold them while they drink their bottles and they observe our faces and we look into their eyes. These moments are of incalculable importance. It is the curriculum of being a baby and learning about the world.

Of course in order to realize this type of program for babies we need to be very thoughtful about the type of relationships we develop in the room. We need to create opportunities for attachment.

Attachment, the idea that the human infant requires strong, reciprocal relationships with a primary adult in order to thrive, and perhaps to survive, is one of the founding principles of Basic Trust. To that end, every child starting off at Basic Trust is assigned a primary caregiver. Although you and your child will of course interact with all of the teachers in his or her room and indeed, at times, with all of the teachers at BT, the role of the primary caregiver is to get to know their "primaries" more deeply and more specifically,to learn and continually relearn the subtle nuances of the children in their care.

In the Toddler and Big Kids Room the role of the primary will look different, but the goal will be the same: for one person to get to know you and your child as deeply as possible and from that solid foundation to allow both child and parent to branch off and form relationships with the wider community.
The Toddler Room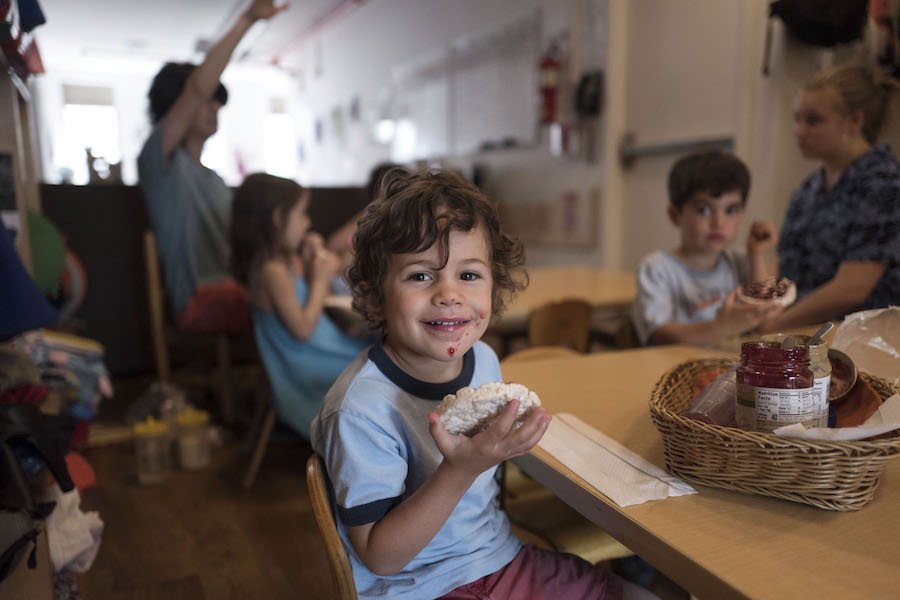 ---

​When children are on their feet and mobile, curriculum means something else again. It is still made up of mealtimes and nap times, but now it is also learning about using the toilet, how to climb at the park and how to be in the world with other people. The curriculum of toddlers is turn-taking and testing adults and making messes and cleaning them up. It's also books and songs and walks to the duck pond. And again we can't underestimate the power of and necessity for strong, connected relationships with adults who know the children.

The struggle of the toddler is his need for order vesus his desire to create chaos. And so in the Toddler Room we do a little of both. We add a little more structure but we always remember that the toddlers need to move and shake the world. There is "Morning Meeting" which asks the child to, for a very short and reasonable amount of time, sit and attend to a couple of songs or perhaps even a book. We ask that they begin to take a small amount of responsibility for themselves: help clean up, bring their cups to the sink, etc. Just as they would in a family, the toddler is ready (and actually often enjoys) helping. So we let them help.

But what toddlers need more than anything else is the ability to go. A confined toddler makes for an unhappy world. So we go out. A lot. If weather permits at least twice a day. We go to parks and playgrounds and on neighborhood walks.

And the toddler also needs to stop. They may not know it, but they do. In all of our rooms sleep is a high priority. Young children need to ample sleep in order to thrive and grow. One of our missions is to make sure that all of the children at Basic Trust have their sleep needs met.
The Big Kids Room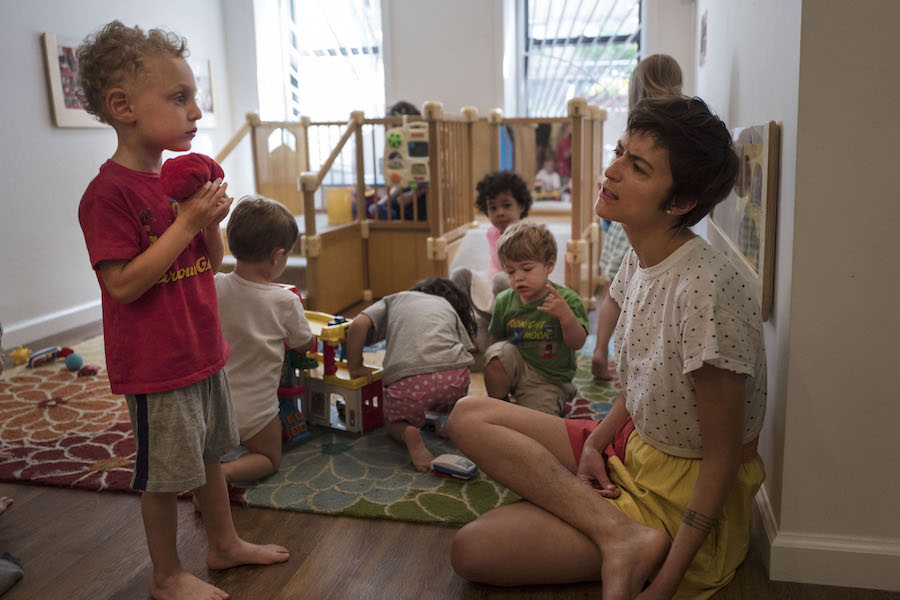 ---
In the Big Kids Room the word gets more complex and richer still. Now we have children who know and trust adults and know and trust each other and are ready to know and test and ultimately trust the world. Everything expands. Our walks are further, our rambles more adventurous. We still go to playgrounds, but to more and different playgrounds and playing different games. The Big Kids might go to Central Park to play a game of baseball, to the Museum of Natural History to look at the dinosaurs or to the Met to gaze with wide-eyed wonder at the statue of Medusa. Morning Meeting becomes longer and more involved, the conversations more complex. The materials at the children's disposal are more varied and demanding. There is a block corner for building and a dress-up corner for pretending. There is paper and scissors and string and paste to make the creations they are beginning to imagine. But still, even with Big Kids, they must be seen and understood in the context of a 10 hour day and a 5 day week and a full year. They are also still little kids who need to sit on an adult's lap and read a story, and who need adults who know them deeply and can support their interests and their challenges. They still need good sleep and healthy food. We take all of this as seriously with the big kids as we do with the babies and the toddlers.

The word curriculum is perhaps utterly inappropriate for all of this, but the reality is we don't yet have another word to describe how the adults observe and support and intervene (but hopefully don't interrupt!) the learning process of the young child.