Welcome to BT!
Basic Trust (BT) is a not-for-profit childcare center committed to providing a safe and loving environment for infants, toddlers and preschool children. Each child is nurtured and supported in a home-like setting with mixed age groupings. We let the children into our lives and together we explore the world as part of a rambunctious family.

In August of 2016 Basic Trust moved from it's home of 20 years in the basement of St Michael's Church on 99th St. to it's very own beautiful townhouse at 127 West 94th St.! After 40 years of existence Basic Trust now has it's own home!

There are three rooms at Basic Trust. Our Baby Room has 9 infants daily, ages three months to 18 months, with three full time teachers. Our Toddler Room has 11 toddlers, ages 18 months to three years, with three full time teachers. Our Big Kids Room has 16 children ages 3-5 with 3 full-time teachers.



A Note from the Director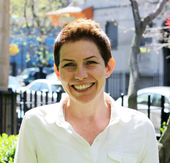 Mary Biggs
Welcome to Basic Trust! BT has been in operation since 1978 when it started out as a small, in-home daycare for just six babies and toddlers. We have since grown into a program serving up to 40 children aged three months to 5 years. Despite the passage of time, the changes in the world and in the city around us as well as our own modest growth, we have kept our mission the same: to provide the highest quality care for children and for families.

At Basic Trust what that means is a commitment to creating genuine partnerships with parents. We believe that daycare, if it chooses to see itself in this way, can be the "New Neighborhood" for families. Daycare has the potential to provide the type of support that in the past may have been provided by extended families or tightly knit neighborhood communities. In the absence of these social networks parents often raise their children in isolation. We believe that good daycare can at least partially replace these sources of support, guidance and community.

And for the children at Basic Trust we want to provide another scarce commodity: a childhood. We want Basic Trust to feel like home. A place that supports them through good days and hard days. A place to be silly and make friends and learn about the world. We want BT kids to grow up as part of a big, rambunctious family.

I look forward to meeting you soon!

Mary Biggs
Director
---
---
I love having college students learn from the teachers at BT. At BT the students I've taught have had first-hand experience with what it means to respect and listen to children. They see a real community in action. They observe thoughtful communication between teachers and between teachers and parents. They learn what I hope all teachers will learn about being with children and with the people who care for and about children.

Rachel Theilheimer, Ed.D.
Professor of Teacher Education, BMCC

Basic Trust is a model daycare center.

Karen Levine
Contributing Editor of Parents Magazine

---